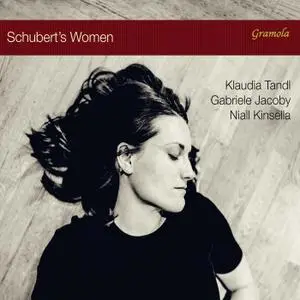 Klaudia Tandl, Gabriele Jacoby & Niall Kinsella - Schubert's Women (2021)
WEB FLAC (tracks) - 272 Mb | MP3 CBR 320 kbps - 152 Mb | 01:06:25
Classical, Vocal | Label: Gramola Records
The Austrian mezzo-soprano Klaudia Tandl, the acting legend Gabriele Jacoby and the Irish pianist Niall Kinsella present "Schubert's Women" with Schubert songs and recitations by contemporary poets with a strong connection to women and the subject "love". There are classics like Das Heidenröslein, You Don't Love Me, The Girl's Lament or Only Who Knows Longing, but also lesser known songs like Luisen's Answer, Thekla or Gretchen's Request. This is accompanied by texts by Johann Wolfgang von Goethe, Ludwig Rellstab, Friedrich Schiller, Ignaz Franz Castelli, and Friedrich Gottlieb Klopstock, which Gabriele Jacoby staged in a unique way.